Student Services
All materials and support needed to complete your studies; no matter how long you take. Upon enrolment, you receive:

All necessary study materials and course notes
Supplementary Reading to reinforce and expand your learning experience (ebooks written and published by our academics to fit with our courses)
Practical learning projects in every lesson
Constructive written feedback on submitted assignments from the same international team of academics who wrote, developed and are continually updating the course notes
A team of tutors who to service all your course and career or business development questions and provide guidance during and beyond the course -on call daily.
Weekly newsletters and active social media providing an opportunity to be actively involved with our college community.


We provide:
Excellent Privacy Protection -SSL certification, plus we are GDPR Compliant
More Reliable Learning Management System – Most colleges and universities deliver online courses using generic software, written some time ago, by someone else. When something goes wrong, they may need to rely on people outside of their organisation to fix the problem That is why we hear about online education delivery systems going down for lengthy periods. Our software is developed by our IT team – we own it, and manage it which means it is more reliable, can be fixed faster, and is a better fit with the courses we write

Integrated student records, student communications and assignment tracking. Again all interactions with you while you study are tracked and controlled through a secure central system, written and managed by our IT team. -giving added security and clearer, faster communication between all our staff and you, the student.
Automated course updates. Our team of academics are working every day editing and writing new content into courses. When you access a course through our online portal; you will always be looking at the latest version of the course. Over the duration of your study, the content of some courses can feasibly increase and update many times.


On successful completion of the course you will receive:
A graduate certificate or other qualification where appropriate
Transcripts indicating units completed
Recommendations and introductions to for suitable industry bodies to join (professional institutes or associations etc)
Recommendations/Introductions to insurance companies for obtaining appropriate professional indemnity insurances.
Letter of recommendation and validation for use with current and future employers and other colleges or universities when seeking credits
Post-nominal letters placed after your name which indicate that you hold the relevant qualification. For example: John Smith, CertBus
Career Development Package – at no additional cost, a copy of one or more of the Career development ebooks written by our academic staff (Getting a Job, Working with people, Working with Animals, Working in Science and Technology, etc); Help with resume writing, Additional CPD 20 hr course
MORE ABOUT OUR SERVICES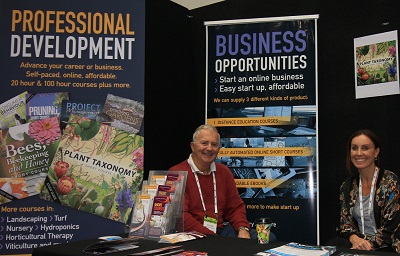 As a student with this institution, you have a large range of services available to help you study.
Many of these services are more than what you find at other institutions
.........Check us out and compare
These include:
Tutors
Academic staff (qualified and experienced experts from the discipline you are studying); will answer questions and provide technical advice.
We don't limit your contact with academics (Some schools only allow contact when submitting assignments, or a certain number of contacts, or perhaps by certain means such as email but not phone. We have no such restrictions).
Assignments are not just marked correct or incorrect (as some institutions do). We provide comments that are designed to enhance your learning, motivate you, and where need be, point you in a direction that can help you learn better.
We will provide free advice and suggestions to help your career development (e.g. Assistance with developing a C.V., advice on developing a business, suggestions to improve your chances of succeeding at job interviews)
We provide access to tutors on around the world. With offices in both the United Kingdom and Australia; you are able to get through to someone for 16 hours every working day (Almost all other colleges only provide 8 hr access...but when our UK office is closed, Australia is open, and vice versa)
Tutors are most commonly contacted via email, but are also able to communicate with students via the phone or chat (on our acs.edu.au and acsedu.co.uk web sites)
You can contact these "tutors" by email, chat, phone, fax
Administrative Staff
Administrative staff are available to answer questions and provide technical advice.
You can contact these "tutors" by email, phone, fax or through the postal system.
Staff are on duty during working hours, five days a week in both of our administrative centres (ie. United Kingdom and Australia).
Most enquiries are answered the same day, or weekend enquiries, on the following Monday.
Complex questions may need to be referred to a specialist or senior staff, which can cause a delay; however servicing you as a student will still be given the highest priority.
Online Student Room
This is a unique feature of this school providing a range of services in a secure part of the internet.

Bookshop
The school's mail order bookshop stocks a large range of books, and e-books, all of which have been reviewed by tutors and judged as accurate and useful support materials in one or more of our courses. It is not necessary to purchase additional books, but they can be useful, and if you do seek to purchase anything, you can not only obtain advice from our staff, but are also eligible to claim a student discount.

Publishing ebooks
The school publishes it's own ebooks written and illustrated to be supplementary reading for courses. These are often optional reading.
While most other colleges would use off the shelf books, which were not usually written with a particular course in mind; ours are written by faculty who know the discipline, know the course, and know what will be appropriate supplementary reading for a student studying that course. The fact that we write and publish these books ensures both a relevance and reliability of supply.
You don't get referred to buy books that are out of print or difficult to buy -which happens too often elsewhere.


Newsletters
You can stay up to date with the latest news by subscribing to the student newsletters.
When you enrol, you will automatically be placed on the list to be emailed newsletters.


Course Upgrades
Course notes are continually being upgraded and in some cases, significantly expanded. As an online student, you will always have the most up to date course notes.
Articulation of Qualifications
We have established affiliations with a network of other highly reputable colleges around the world. This enables graduates to more readily articulate into further studies at these affiliated institutions. In effect, you can move (for example) from England to Australia, or Australia to England; and find people in your new home, who will know what your qualification from us means. (Often this transportability can be a problem elsewhere).
MORE ABOUT THE STUDENT ROOM
Modern technology has allowed us to create a "Virtual Community" through the student room.
Even students isolated by time and distance can interact with each other and staff at the school, accessing valuable information and seeking support in their study.
The student room provides you with the option to be an active part of a global school community.
Online Library Access
This contains many hundreds of items including articles, books, and other information created by students and staff. It's search mechanism also links into some of the best reference sites identified by our tutors for supporting studies by our students)
Publishing Students Work
Students can have any outstanding examples of work published online. It is well recognised that a big part of enhancing your career prospects in any field of academic study is to have your work published, and to list "published articles" on your C.V.
Several facilities allow us to help and nurture budding experts by publishing their work.
Secure Submissions
Payments can be made, exam application forms submitted, and other communications made through encoded messages.
Student only Information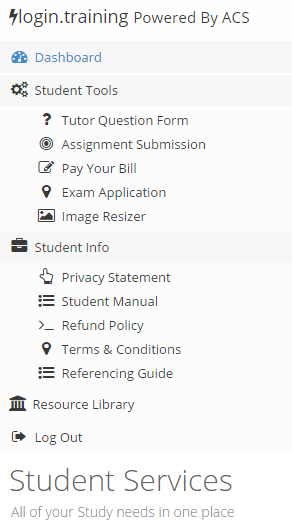 Join a Virtual Community
Connect with us on Facebook and LinkedIn
Other Unique Facilities
We're always looking for other facilities or services to add to the student room. e.g. An image resizing tool can be found in the student room that can be used to quickly and easily change a large photo or drawing into something smaller and easier to submit over the internet with an assignment.